1.  "Shot on iPhone" – Mother's Day Personalized Apple Ad
In 2016, Apple launched a big video ad ahead of US Mother's Day. What made this video unique was that it was simple and effective. Apple's ad features photographs uploaded to social media that have been "shot on iPhone." 
These photos create a compilation of touching moments between mothers and their children. Apple simply wanted to remind its consumers that Mother's Day is around the corner by featuring heartwarming photos and nice background music. 
This few second video is a perfect example of how a brand can leverage social networks to promote a feature of its product: its camera functionality. 
Maidenform, a leading U.S. manufacturer of women's underwear, set out to double its brand awareness. So it created a sweepstakes-based campaign and leveraged social channels for its implementation.
The campaign was appealing: users were invited to share a photo with their mother. In addition, they described how their mothers "shaped" them using the hashtag #MFShapesMe.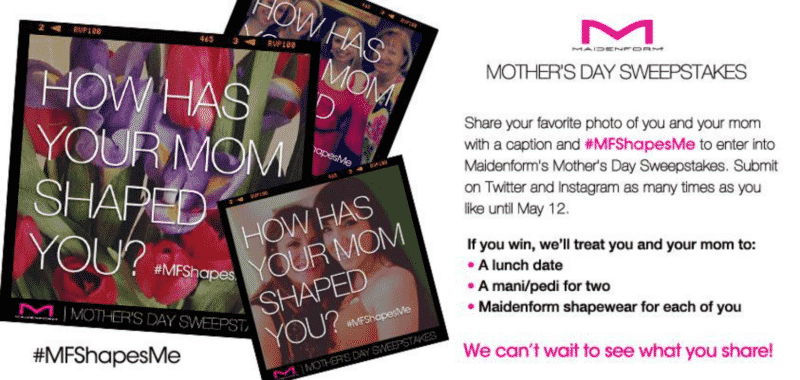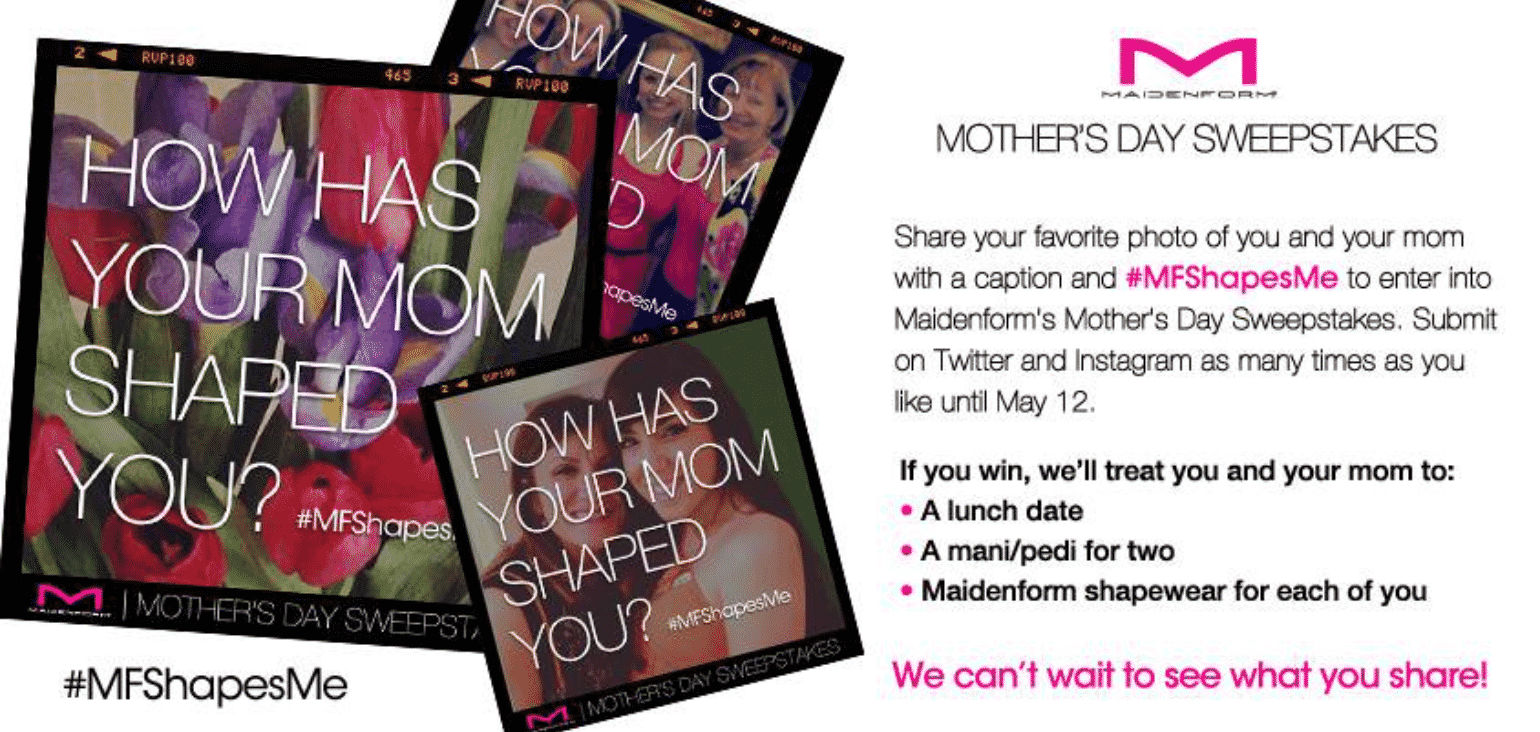 This campaign allowed Maidenform to become the center of the attraction and leave an impact in the minds of its audience.
In 2018, flowers were named the second best-selling Mother's Day gift with $2.6 billion in sales. Because a good Mother's Day ad campaign has to be in tune with current events, Teleflora, as a leading flower delivery service provider, has spent time creating powerful thoughts in its Mother's Day campaigns.
The brand decided to highlight the difficulties faced by mothers through a video in which it praises the difficulty and ease with which moms work for their families in difficult situations to raise their children. The video has accumulated nearly 20 million views on YouTube. The lesson here is that good advertising should be topical while also conveying empathy. 
Pandora, an international jewelry manufacturer from Denmark, chose a different approach for Mother's Day. It got in tune with the kids and used Snapchat. Since the social network is popular with teens, the luxury store encouraged British mothers and daughters to take Pandora-inspired selfies together. By doing so, it crossed generations, while inspiring daughters to introduce something new to their mothers. Pandora was also the first brand in the U.K. to use Snapchat geofilters.
Video storytelling can be a meaningful and moving way to promote your brand's products during Mother's Day. This year's Mother's Day video from DICK's Sporting Goods is a good illustration. The video tells a great story through the mothers who work at the company, in their own words. 
The video is a collage of these mothers caring for and soothing their children with messages of love, set against a backdrop of sports and game scenes. The brand stands out with appealing calls-to-action on the website's homepage that offers two options: click to shop or click to see gifts that cost $50 or less. This strategy is a great way to engage shoppers on a budget and increase sales and revenue that might otherwise have been lost.


To make Mother's Day even more beautiful, KFC has teamed up with Proflowers to offer a fried chicken "buckquet"! It's actually a bouquet that combines fresh flowers with pieces of fried chicken in a vase with a KFC sticker for decoration.
Sure, it's an unexpected and odd combination, but let's face it, it's brilliant. Tasty and sweet, fresh and greasy – this will be the best gift ever for many moms. Plus, both brands are playing with the wordplay of "buckquet". This Mother's Day ad will be remembered for a long time.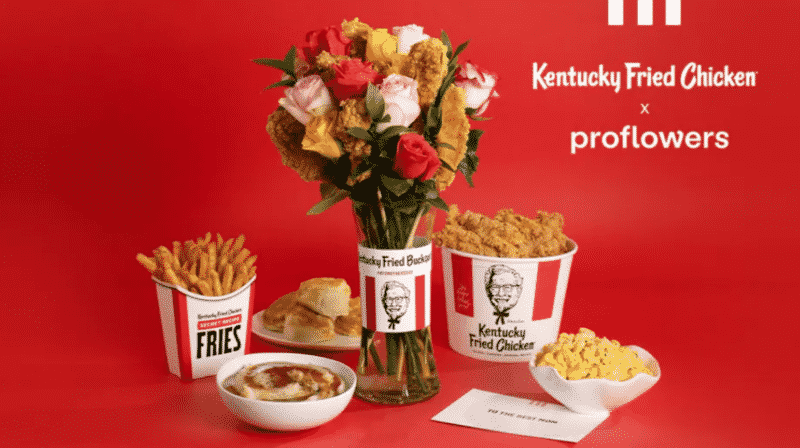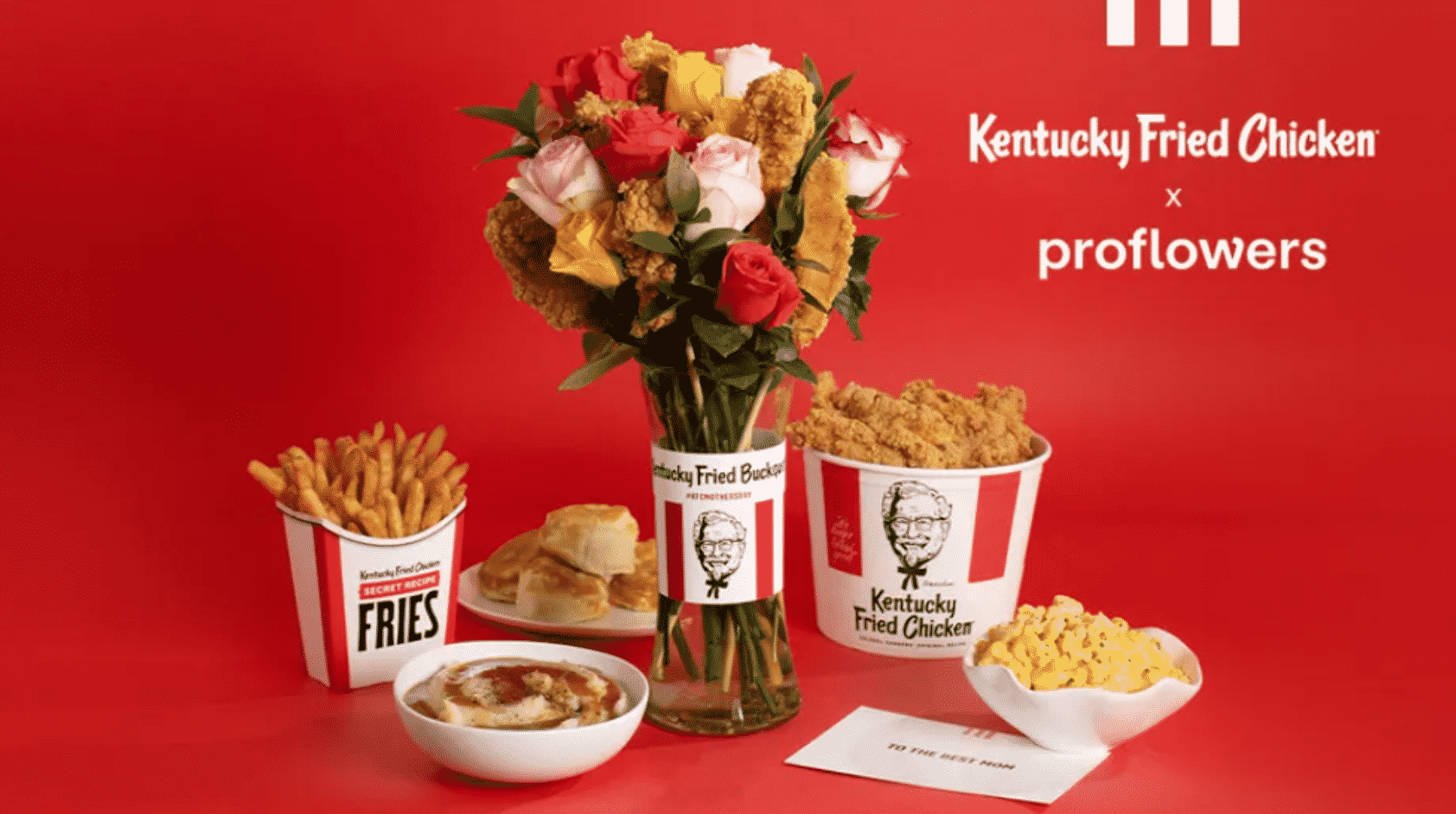 The term DOOH (digital out-of-home) refers to any digitized advertising display in a public setting. This includes digital billboards, outdoor signage, and networked displays found even in commercially oriented gathering places such as stadiums, malls, and hospitals. According to Statista, DOOH ad spending is expected to reach $3.84 billion in the United States, up from $2.72 billion in 2020. 
Lucit, a software company that has developed an app for digital billboards, is jumping on the bandwagon with a clever and fun Mother's Day advertising campaign. Lucit offers the ability to get a mom's picture on a digital billboard in participating areas simply by signing up for the app and posting the image. 
After the past two years of confinement and spending too much time in pajamas and slippers, taking care of the kids, this is a great way to celebrate mom and an amazing Mother's day advertising strategy from Lucit.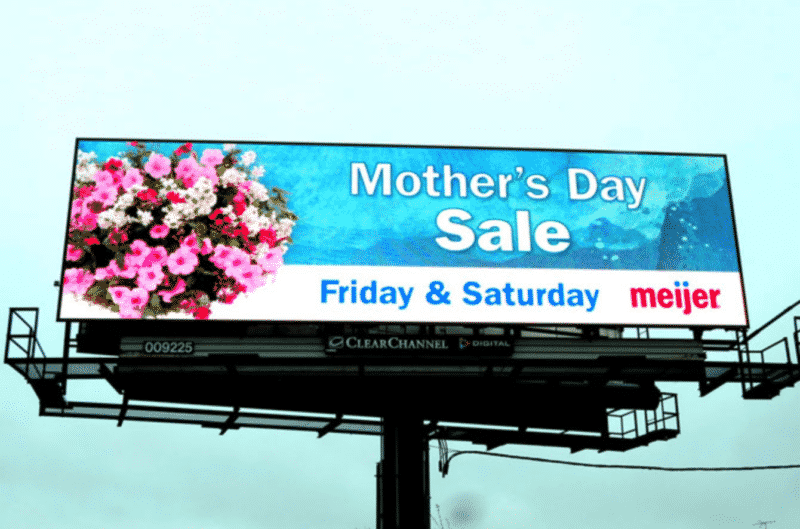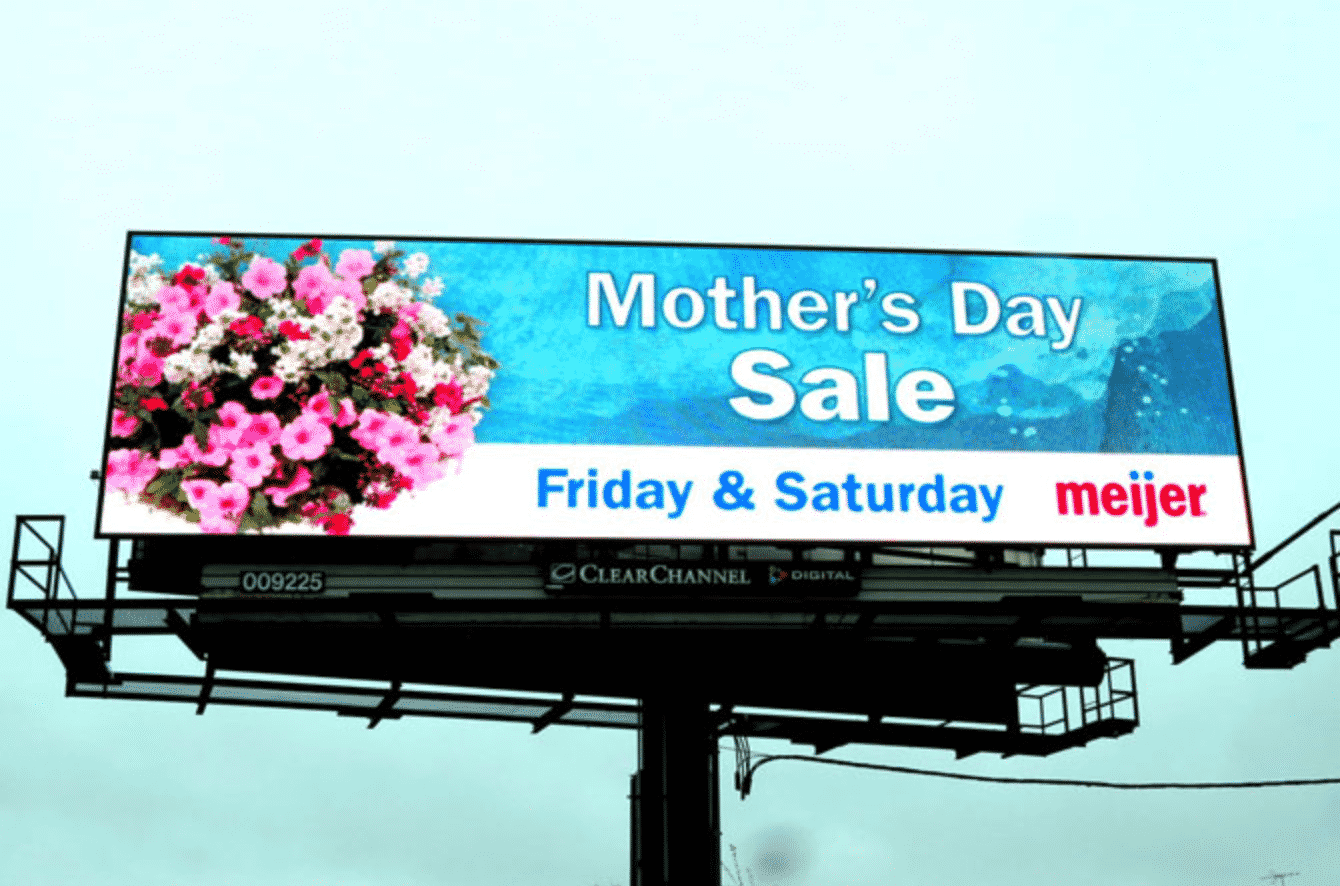 Examples of some of the most controversial mother's day ads
Penguin – wrong hashtag choice on Twitter
In 2015, Penguin book publishers didn't understand the importance of choosing the right hashtags on Twitter. They asked users to tweet them with the hashtag #YourMum. Unfortunately, this hashtag, which also means a slur generally used to insult someone, was taken out of context. 
As a result of this poor choice, more than 7,000 people hijacked the campaign to share jokes. Of course, Penguin marketers increased brand awareness and social engagement, but the flip side is that they didn't sell enough books for Mother's Day. The takeaway? Sometimes, a little research goes a long way! Choose your words carefully so as not to create any kind of backlash.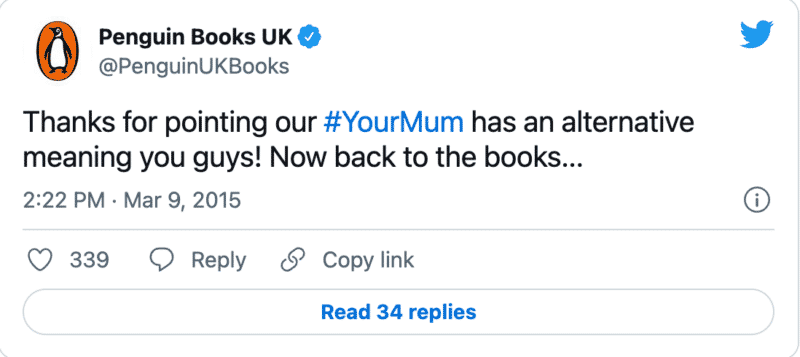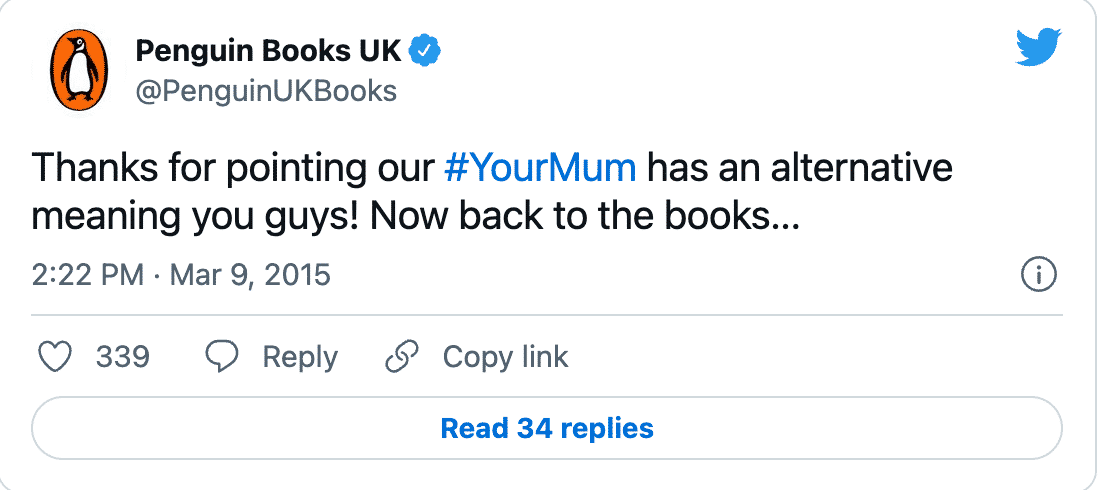 German supermarket Edeka criticized for sexist advertising
In 2019, a German supermarket drew fire from social media users and traditional media commentators after releasing a questionable Mother's Day ad. Edeka's video is titled "We Say Thank You" and shows a series of black and white vignettes of incompetent fathers. The video shows some rather graphic content that was quickly panned by nearly everyone who watched it.
The video ends with the line, "Mom, thanks for not being a dad," and footage of a loving mother caring for her daughter while the father devours what looks like Doritos. The ad was criticized for perpetuating hackneyed sexist clichés, portraying men as hopelessly incompetent and mothers as caring and maternal. 
Predictably, many Twitter users criticized the depiction of men, and some vowed to boycott the supermarket's products. The video that was supposed to put women in the spotlight turned out to be a fiasco.
Following Mother's Day, retailers often experience less traffic in their stores. However, it is still possible to encourage your customers to come and make their purchase at your premises. Below are some strategies you can leverage:
Invite your customers to join your referral program
After Mother's Day is over, you can send emails to your customers to collect their feedback about your product quality and customer service. If they were satisfied with the services you offered them, invite them to join your referral program.
A referral program is a marketing strategy that incentivizes your existing customers to share your brand with their friends, colleagues, and family. For their efforts, referral programs often offer customers rewards such as gift cards, discounts, points, or freebies.
This strategy helps companies easily find their brand's biggest ambassadors and know exactly who their new customers are, where they come from in order to better market their products. It also lowers the cost of acquiring new customers. If your business doesn't have a referral program, it's time to create one. 
See related: What Is Referral Marketing? 6 Ways for Retailers to Grow Their Business
With an average (ROI of nearly 4000%, email marketing is one of the important strategies for all businesses, whether traditional or eCommerce. Running an email campaign is an effective way to promote new products or services, and inform your customers about various discounts or promotional sales happening in your store.
In order to do this, it is imperative to have a cutting-edge POS system capable of collecting emails from your customers, sending emails through individual vendor accounts as well as through a centralized account used for the entire store. Not only does it allow you to collect customer emails for your future email marketing campaigns, but it also improves the retail checkout experience for customers by saving time.
See related: Holiday Email Marketing Ideas: How to Keep Customers Engaged