The holiday season is the time when businesses need fresh insights to draw their plans so that they could make the most sales. But, coming up with holiday plans has been an wildride — thanks to recent global events. 
E-commerce, particularly shipping and delivery has taken a toll since the 2020 holiday season. First, there was a widespread infection of COVID-19 prompting a surge in online shopping. In the 2021 season and 2022 so far, we've seen supply chain disruptions, followed by the geopolitical conflict between Russia and Ukraine.  
However, experts are hopeful that things are changing for the better yet we still need to keep an eye out to have a better understanding of how this season might turn out to stay ahead of potential issues. 
Here are some critical e-commerce holiday insights such as time-tested predictions and trends to help you do just that.
1. How Will the 2022 Holiday Season Be Different?
1.1. Inflation will pose a problem
1.2. The impact of supply chain disruptions
Adding to the woes of inflation will be the increased odds of holiday gifts arriving late or getting out of stock for the worse. While not severe compared to last year's holiday season, the supply chain constraints still very much exist and will pose a threat to e-commerce production and deliveries. 
Experts are also adding that the efforts taken to improve the supply chain via strategies such as technological and workforce investments will make holiday items expensive as well.
1.3. We will see an extended holiday shopping season
As the holidays near, customers will be looking to start their shopping earlier, even as early as June for their Christmas gifts, to not fall prey to the increased costs and possible shipping delays.  
Businesses too would be eager to capitalize on this opportunity and start extending their deals for BFCM (Black Friday – Cyber Monday) for more than a week. Thus, similar to the last two years, we can expect the holiday season to start sooner and go on for a few more days rather than just being single-day slots. 
1.4. E-commerce will evolve and dominate the shopping space
E-commerce sales have been rapidly growing for the last couple of years and this time as well, one can see a 15.5% increase over 2021 and reach $236 billion. However, the worry of inflated costs on holiday gifts will lead to shoppers using marketplaces to buy many gifts at once. 
Also, the need for convenience will put shoppers to buy their holiday gifts via mobile devices thus predicting mobile commerce sales to grow 20% over 2021 to $115 billion.
1.5. The competition between brands will be higher than ever
With e-commerce and consumer demand constantly on the rise, retail businesses that have not yet jumped on the online bandwagon will now take the opportunity to get started. 
This makes it difficult for existing businesses to turn visitors into customers amidst the fierce competition during the holiday battlefield.
1.6. CX will be the key differentiator for holiday success
New marketing strategies such as discounts and offers are cool but remember — a lot of businesses might be doing the same thing thus, making you easily forgettable. 
Therefore, if you really want to improve conversions and maximize sales during the peak season, you will have to provide personalized customer experiences that work as a differentiator for your brand. Also, in an experience economy, that is exactly what customers expect from you as well. 
To help you get started, here are some ways to prepare your business for the holiday season by making use of Customer Experience (CX) as a competitive advantage.
2. How You Can Prepare for The 2022 Holiday Season
The customer's journey with your brand consists of touch points between the two of you. From product discovery to post-purchase communication and returns, all touchpoints should be leveraged if you're looking forward to offering the best possible experience for your customers. 
If you are indeed looking to do just that, you need to keep up with these holiday insights in the form of handy trends in different areas of your business. 
2.1. Make the website and checkout experience seamless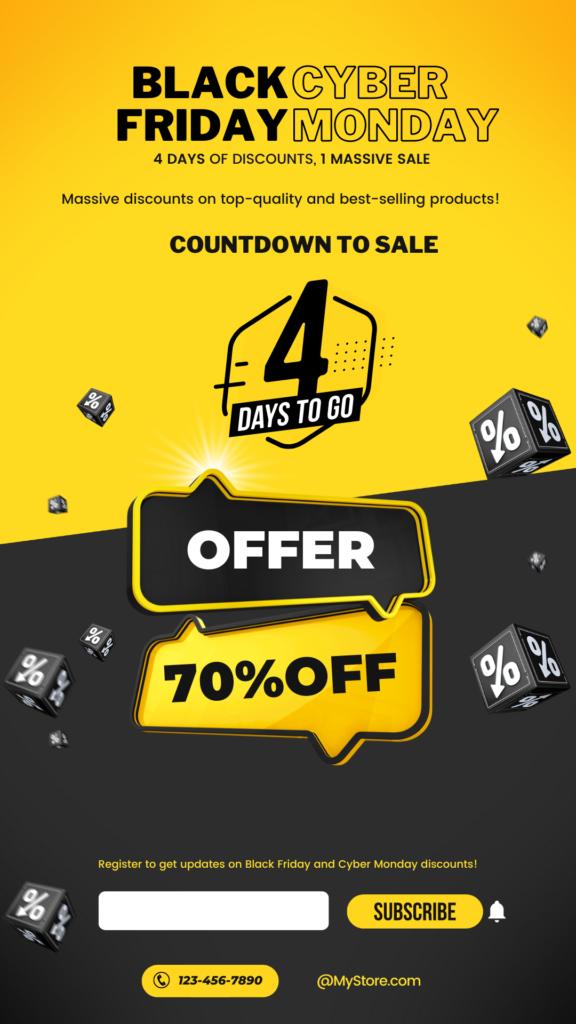 Despite lower COVID-19 cases and almost entire restrictions lifted, 57% of shoppers still planned to do their shopping online, with only 43% heading in-store in 2021. 
If this number increases based on projections, the chances of your online store getting traffic also increase. However, all this opportunity is lost when your website is not optimized to gain or handle the holiday traffic, especially during peak shopping days like BFCM. 
Website optimization can improve conversions by 70%. 
So, what is that you should be focusing on to make sure that your website visitors convert into customers?
Outdated websites and social media campaigns can lead your customers to question the authenticity of your e-commerce store. Therefore, keep

your website

and social media pages holiday-aligned with new products and promotions for them to stay relevant. 

Boring websites cause customers to drop off and heavily increase bounce rates. To avoid that scenario, produce content that is both educational and engaging. This can encourage visitors to stay long enough to hit that 'buy' button.

Slow and sloppy websites can lead to frequent crashing and result in frustrated visitors. So, frequently check and optimize your website's loading speed and design leads to keep it user-friendly and reduce cart abandonment.
Following the above steps can ensure that you provide customers with a seamless experience and exceed their expectations when it comes to the checkout process.
2.2. Personalize the experience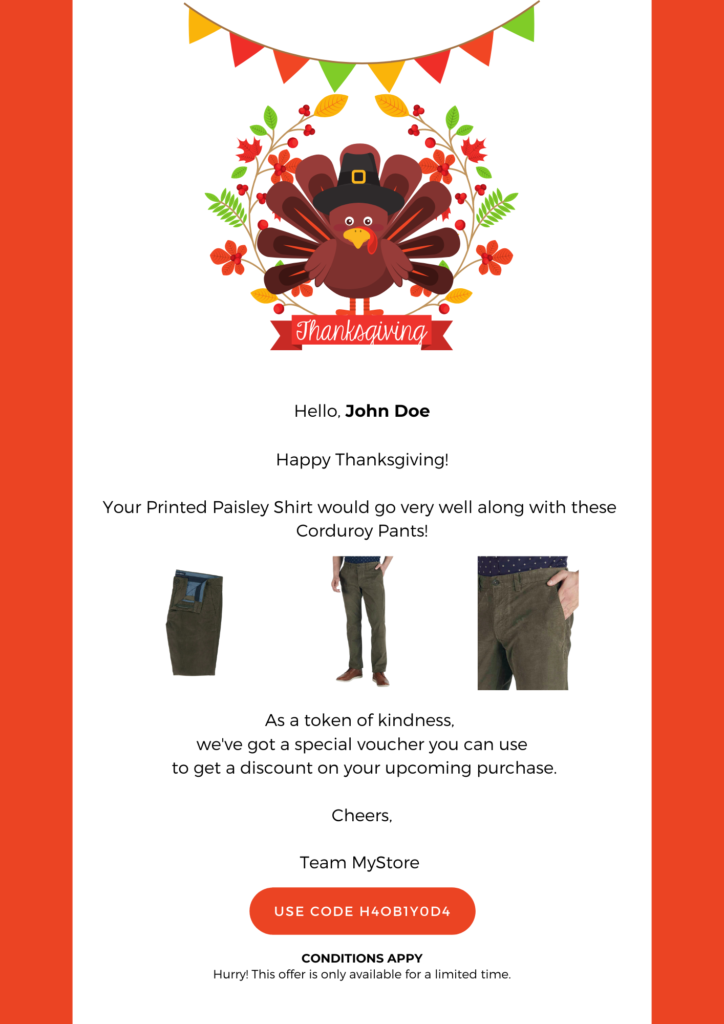 Marketing campaigns aren't just for making your customers shop with you for once. You can also use them wisely to increase your satisfaction metrics such as Customer Lifetime Value (CLV or CLTV). 
One way to do that is to make sure their experiences with your brand are personalized. Suggesting new products based on your customers' recent purchases can spur them to spend more with your brand. For more personalized recommendations, you can collect information from them via feedback or ask them to fill out surveys such as questionnaires. 
Remember, taking efforts to provide personalized experiences also impresses customers, who are delighted by your level of service to them.
2.3 Explore new ways to fulfill orders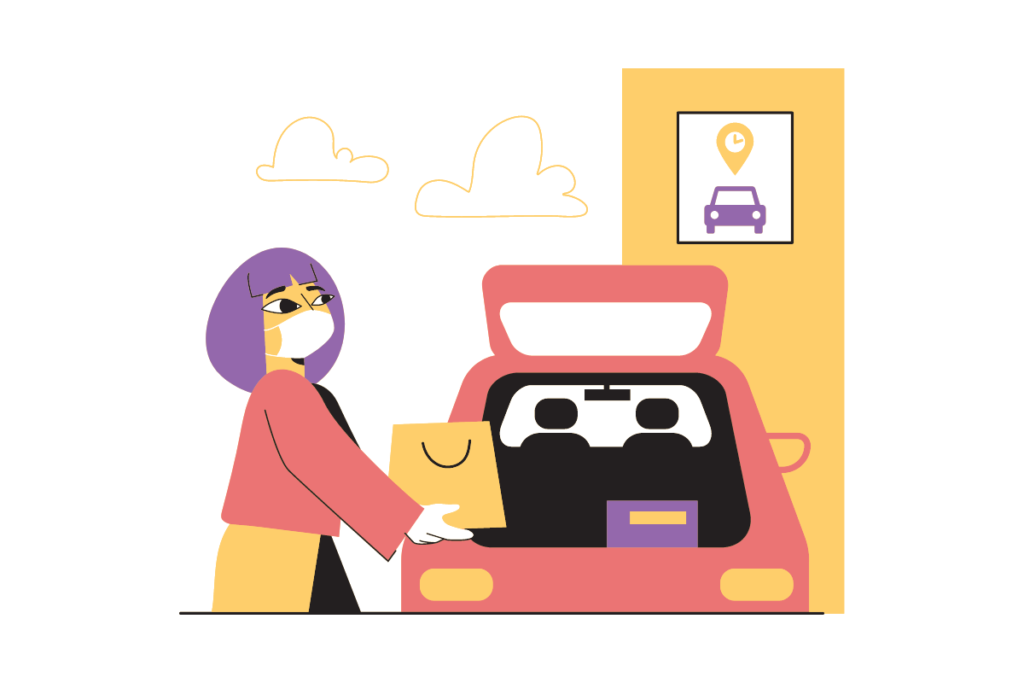 A great customer experience strategy requires a time-tested strategy for multiple shipping and fulfillment options. And one way you can do that is by expanding your sales channels across your website. 
Your customers use multiple devices while looking for convenient purchasing. Extend the same convenience for them while reaching out to them where they spend most of their time. P.S. You also get to make more sales this way. 
When it comes to selling, try considering multiple sales channels such as marketplaces and social commerce. All you have to do is make sure you have the same level of user experience across these channels. 
For fulfilling orders, make sure to explore convenient and customer-friendly ways like BOPIS (Buy Online & Pickup In-Store) and curbside pickups to enable your customers to collect their orders at the earliest without succumbing to delays.
You can also follow the same when it comes to shipping and delivery by offering multiple shipping options ranging from same-day delivery, overnight delivery, 2-day delivery, etc. 
Providing your customers a list of options to choose what best suits them rather than putting them in a corner with a lack of choice, assures them of decision-making authority and boosts their confidence to keep shopping with you.
2.4. Be aware of shipping carrier deadlines & possible delays
Being aware of the various timelines associated with shipping carriers can help you stay a step ahead of possible delays. 
Major carriers like FedEx and UPS draw up special holiday-specific calendars each year. These contain important dates during the season as well as the last days for parcels to be handed off to the carrier to be delivered on time for key days like Thanksgiving and Christmas. 
Carriers have been following this necessary practice of setting deadlines for shipping because parcel volumes during the Holidays are typically significantly higher than during the rest of the year. In the past few years (and this year) it is bound to be even busier as more people choose online shopping than brick and mortar. 
As an e-commerce retailer, you need to keep these deadlines in mind and be prepared to ship out your parcels on time to avoid your customers' parcels getting delivered late on account of the considerably high volume that shipping carriers deal with at this time of the year. This assures,  even in the slightest way, that your customers are not set up for frustration over their holiday gifts getting delayed but instead will have a seamless order delivery experience.
2.5. Give precedence to post-purchase CX

No matter how hard you try, delays are inevitable and can certainly hurt your customers' happiness when it comes to order deliveries. 
Worry not! That's where the CX efforts you continue to take in the post-purchase phase come in handy. 
Some of the best practices to optimize your post-purchase CX are:
Resolving delivery issues such as delays before customer impact

Keeping customers regularly informed of their order status

Increasing customer delight via tracking experiences that are on-brand

Improving delivery experiences by taking customer feedback into consideration

Making your returns process hassle-free, etc 
All of this can improve your retention rate and particularly during a time like the Holiday season, can bring in more sales.
Having a clearly-defined and frictionless returns policy prominently displayed on your website makes your brand seem less risky for shoppers. In fact, the generous returns policy is one of the aspects that makes e-commerce giants like Amazon tick as a business.
Tailor your returns policy in a way that best suits your customers' experiences as well as your business' interests. For example, being too strict with your returns can repel customers from shopping with you a second time due to a lack of convenience.
At the same time, being too lenient can encourage unwanted and fraudulent returns that can be expensive for your business. Therefore, the best ploy would be to keep it balanced when it comes to the time window as well as the product condition. 
Also, make returns easier for your customers, who already are not happy with returning a holiday gift that they longed for. You can do just that by making returns initiation frictionless via self-serve methods and keeping customers in the loop of their returns effortlessly.
2.7. Empower your customer-support executives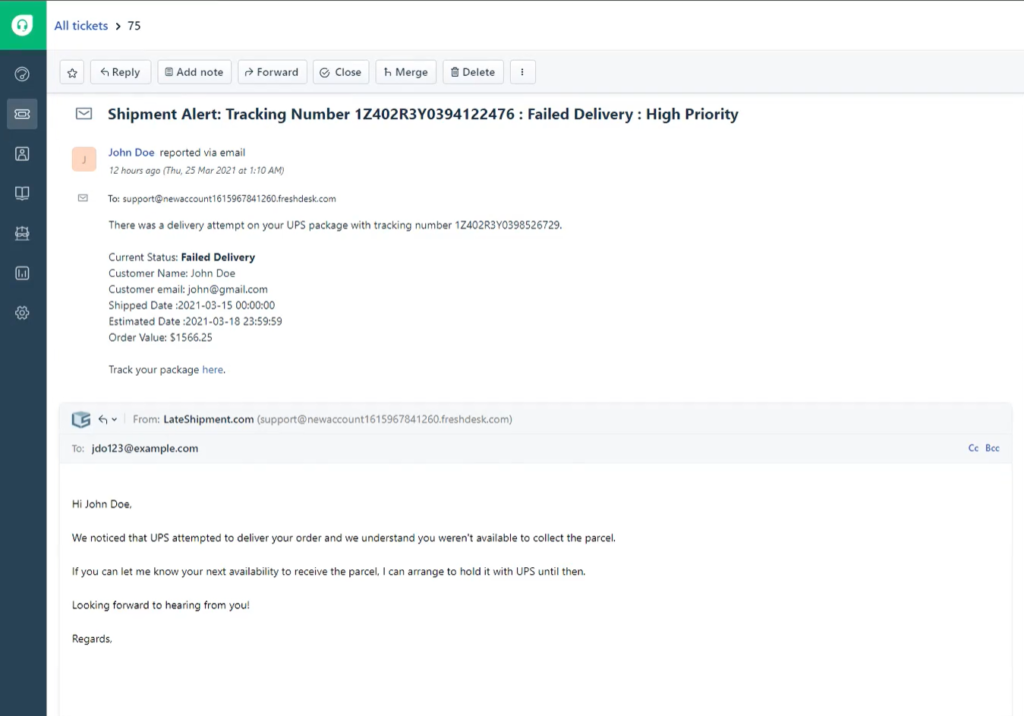 Regularly tending to customer queries such as delivery issues or WISMO inquiries takes up all of your support reps' time thus, preventing them from tending to other important queries that can turn out costly for your business. 
On the other hand, empowering your support reps to stay in the know of your customer's parcels which are error-prone, and proactively resolving them before they impact your customer saves your reps' time and also helps you forge strong relationships with your customer.
You can also provide omnichannel support on your website, social media, etc to avoid issues being escalated and reduce the number of support tickets being created.
2.8. Update your tracking pages with relevant campaigns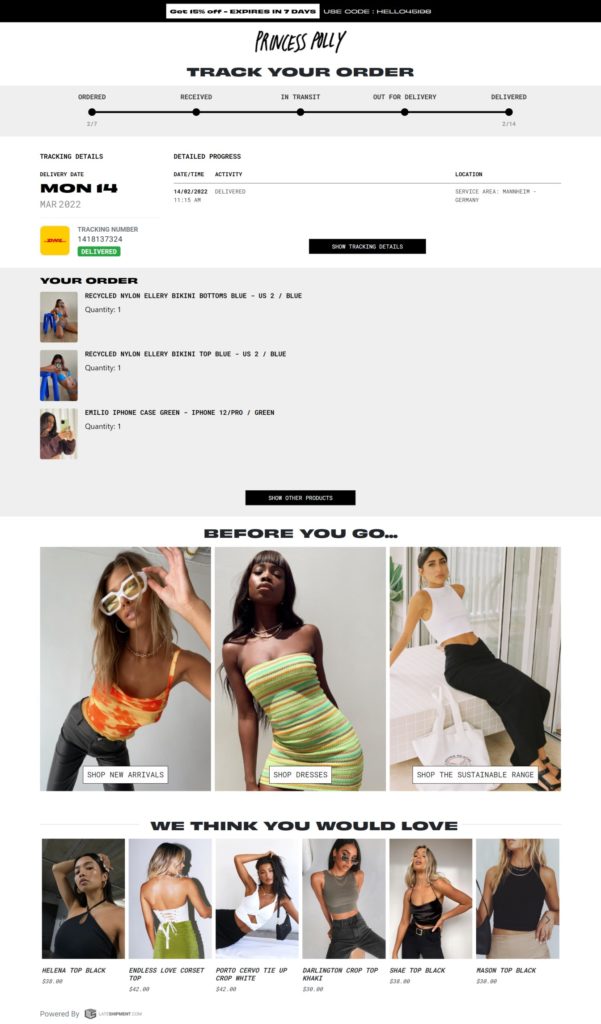 Beautiful-looking product pages with relevant holiday content set the customer on the path towards making that purchasing decision. So why not try the same strategy to target repeat shoppers? 
Make your tracking experience more than just transactional by having personalized product recommendations for every customer and further encourage them by giving them special offers such as discounts on their upcoming purchase.  
Customers engaged via tracking pages and delivery-related notifications have drastically reduced anxiety levels and would be glad to shop with you again given the experience you've provided them. Such personalized ads can truly ace the motivating factor and double your chances of driving repeat sales.
Implementing all of these might seem too much to do right before the holiday season. But trust me, they're not. 
These holiday insights set to provide the best possible experience for your customers can ultimately help you in making more sales, especially in an environment where your CX can work as a differentiator for your brand. 

3. How LateShipment.com Can Help
LateShipment.com's post-purchase suite, helps you focus on the post-purchase touchpoints of the customer journey and boost retention and lifetime value through memorable delivery and returns experiences this Holiday season, all while improving carrier performances and reducing shipping costs by up to 20%. 
 Our feature-packed Delivery Experience Management platform helps improve shipment visibility and drive customer delight post-purchase. 

 Our customer-first Returns Experience Management platform makes returns effortless and efficient — all while retaining revenue. 

 Our Automated Parcel Audit and Shipping Refunds solution recovers dollars in the refund claims and enables you to make data-backed shipping choices. 
LateShipment.com also seamlessly integrates with over 600 shipping carriers and business tools that include E-commerce platforms, Order Management Systems, CRM, and Marketing Automation tools to help you craft delightful post-purchase experiences, at scale. 
Consider trying out LateShipment.com as well as these trends and let us know how well things worked out for you. Have any other trends that you would like to share with fellow e-commerce retailers? Let us know in the comments. 
The post 14 Holiday Insights for E-commerce in 2022 appeared first on Lateshipment.com Blog.